Elepreneurs Compensation Plan

---

Joining Elepreneurs

New affiliates can optionally sign up for a one-time purchase with an "enrollment pack":

Happy – $249 / Happier – $499 / Happiest – $999

Elepreneurs Affiliate Ranks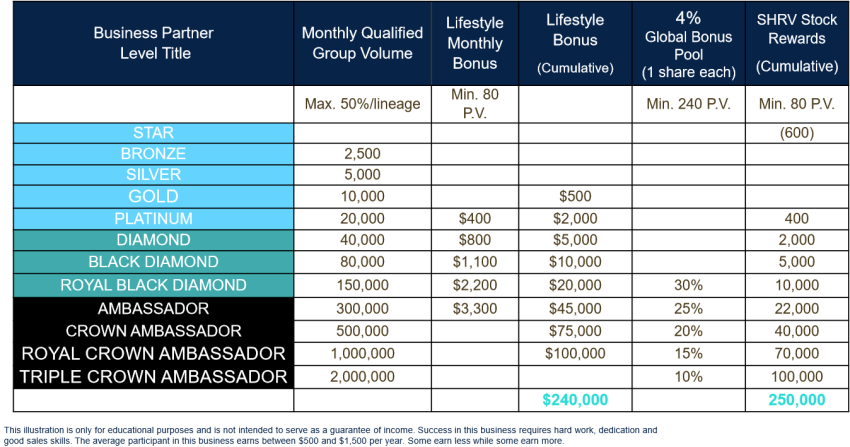 Lifestyle Bonus

The Lifestyle Bonus rewards Elepreneurs' Gold and higher ranked affiliates.
Note that Platinum and higher ranked affiliates must meet an additional 80 PV a month requirement.

PV stands for "Personal Volume" and is sales volume generated by sales to retail customers and an affiliate's own purchases.

If an Elepreneurs affiliate meets the above qualification criteria, here are the corresponding Lifestyle Bonus payments:

Gold affiliates receive $500 (no 80 PV requirement)

Platinum affiliates receive $2000 ($400 a month)

Diamond affiliates receive $5000 ($800 a month)

Black Diamond affiliates receive $10,000 ($1100 a month)

Royal Black Diamond affiliates receive $20,000 ($2200 a month)

Ambassador affiliates receive $45,000 ($3300 a month)

Crown Ambassador affiliates receive $75,000

Royal Crown Ambassador affiliates receive $100,000

WHAT THEY DO NOT TELL YOU IS YOU MUST MAINTAIN THIS FOR 2 Months
(Over 8 months now they have not shown a compensation plan on their websites).
Rest of the Comp plan by way of BehindMLM.com
The Shipping is so messed up with Elevacity/Elepreneurs taking 3 to 4 weeks to get it.
Order Now same day Shipping: www.CountryHealthStore.com

---
Crush Global the most potent Natural supplements in the world!
Incredible Weight Loss Results > Try the 10 Day Jump Start System YOU Will Not Be Sorry!

10 Day Jump Start System for an Incredible Life Enhancement!
10-Days each of Ryse, Shyne, Clymb, Zyng and 10-Days of Nyte!
Go to My Personalized Replicated Website
Lyfe and Lyte with No THC both 100% Organic Hemp Extracts
Join with Us I will create one for you too a FREE Website
Watch The Video Below
Copyright 2017-2018 - Advanced Marketing Trust a Independent Elevacity Distributor
This is an Independent Elevacity Consultant Website and NOT a Company website.
All information and opinions expressed on this site are that of the consultant and not endorsed by the company.
No income is guaranteed or implied as an Independent Consultant.
Elevacity is not intended to prevent or cure any disease, illness, or condition. If you have concerns please consult your physician.